In the last post I wrote about the addition of a laundry closet (stackable washer & dryer) to our upper level.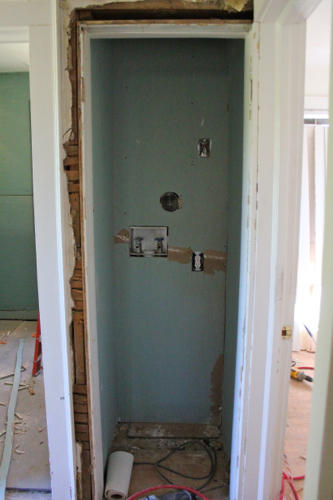 Since doing this meant eliminating the house's linen closet, we immediately added another one and it's conveniently located just across the hall from the new washer and dryer along this wall: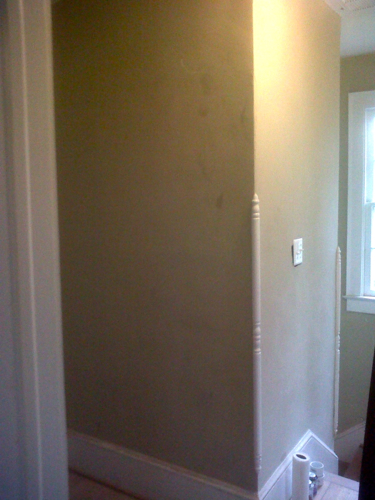 How did we manage this? Well, the closet in our 3rd bedroom (Colette's future room) is more than double the depth of a normal closet and ran through the area behind the wall in the photo above. This worked out perfectly for our situation and we decided to basically split the closet in half leaving the front half as the bedroom's closet and the back half for the new linen closet.
To do this all of the closet organizers were first removed (and saved). Then, the new door opening was measured and laid out based on the door to the old linen closet/new laundry closet. Since the washer & dryer will require a vented door, we're reusing it's old one for this new linen closet. It was actually the use of this door that dictated how large each of the two closets would end up being. Fortunately for us it allowed for two decently sized closets.
Once the door was measured and cut out we were able to frame out the wall which would divide the two closets. Immediately afterwards the door for the new linen closet was framed out.
Next came the drywall for the wall separating the two closets along with the drywall in the new linen closet. After the drywall came the installation of the door and door frame within the new linen closet opening.
New linen closet: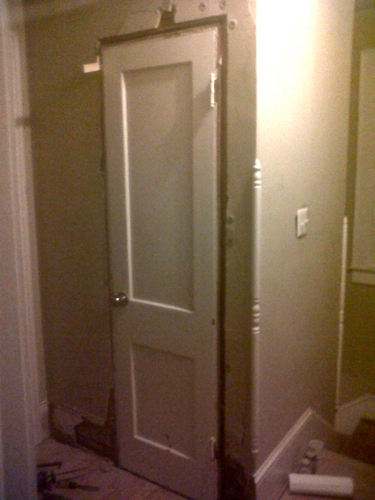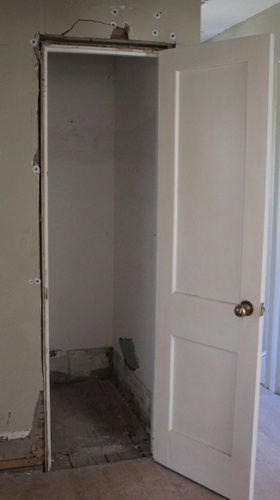 New (slightly smaller in depth) bedroom closet. Just like with the other bedroom's closet that lost a little space for the washer and dryer, this closet will have plenty of storage once organizers go back in.