Landon's room in our last house was a relatively simple renovation that turned out similar to his room in our first house. This was not an accident or done out of a lack of creativity, but rather because our Landon is a creature of habit and we wanted to make sure that moving into the house he felt like it was his home and his space right from the start. He has always had a difficult time with change (no surprise considering both of his parents are the same way) and new things. He's our cautious child, which we've found in many instances to be a blessing! He even helps us keep watch of his sisters with his "safety first" mindset.
At any rate, here is our sweet boy's room from our first house.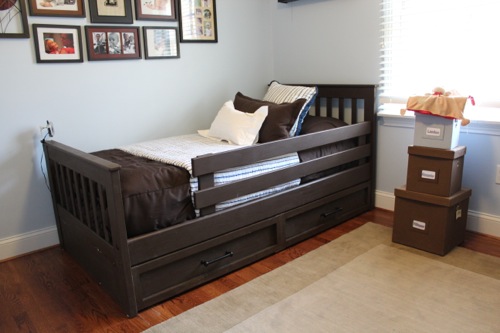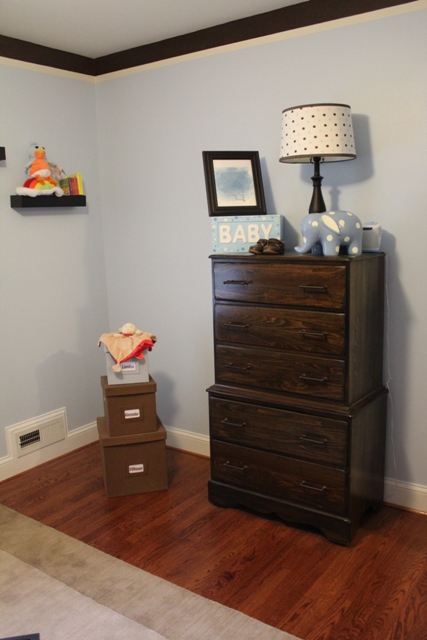 That same dresser, bed and comforter set came with us during our 2nd stay at my parents house and it absolutely had to come and be a part of his room at this house. Having it there made it feel like home immediately to him. I also carried over a similar paint scheme from his first bedroom to this one. I kept the main color a soft blue (though, this one was even more subdued than the first) as well as a brown accent band. This time, however, brown wasn't the only accent color and the band was very thing and about two-thirds of the way up the wall rather than at the top near the ceiling. As you'll see in the pictures below I also chose to incorporate orange into his room for added interest. Also, how can you go wrong with orange and blue? UVa colors! Wahoowa!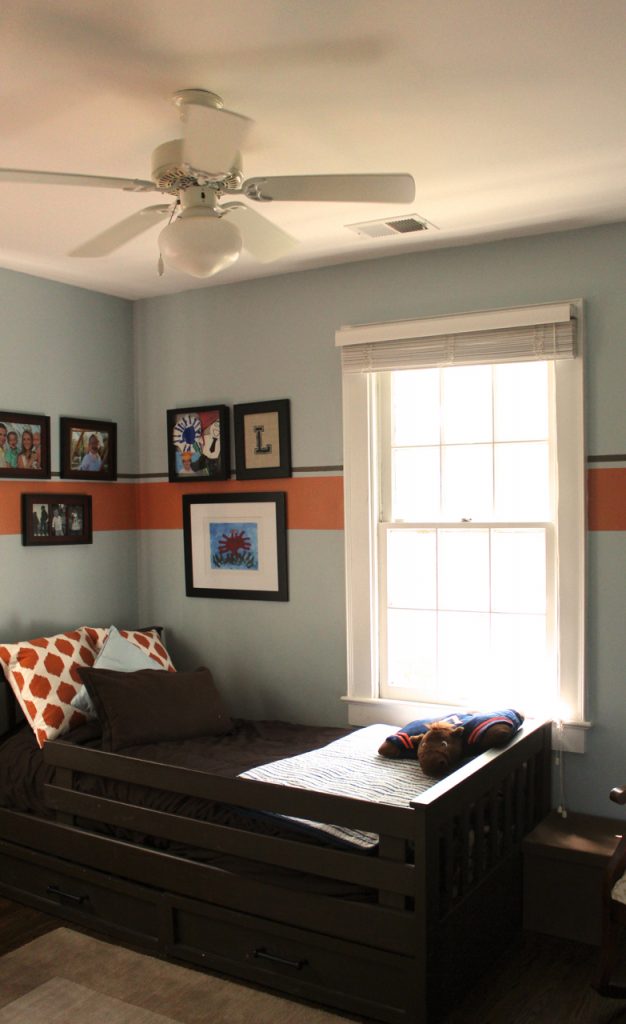 When we added the little reading nook into Colette and Mila's room (read about that here) I started to think Landon's room was missing that same sort of special element. I decided to capitalize on some wall space that sat above a rocking chair in his room. Pavlo had some older scrap wood that he cleaned up, cut to size and sealed to make shelves. The black brackets they're held up by are simple Ikea ones (just as the ones in the girls' room were). The shelves added the perfect rustic, masculine charm the room needed. It also provided a place to display elements from his nursery as well as a few that represent his amazing personality and interests from over the years. If you'll remember from his first room I did a whole wall collage on Landon's interests. He's so funny because when he starts to like something he becomes  downright consumed. Right now it looks as though we're going to have to form his new room around wild animals, specifically great cats. Should be a fun room!