Ahhh, just sorting through photos of the kid's rooms in our last house has made me tear up! I can't wait to start on our next fixer upper and give the kids new, unique, special rooms. Colette's already giving me her opinion on what colors it should have in it…let's just say we don't 100% agree!
Colette and Mila shared a room in our old house, just as they do here at my parent's house, and will continue to do so until they're married and leave the nest all together! That should be around age 30, right? Will I even be ready then? Probably not. Anyways, Mila wasn't born when I first set the room up for Colette, in fact, Colette was so young she was still in a crib. Once little Mila moved in with her the room didn't change very much, we simply transformed Colette's bed into a toddler day bed and had Mila sleep in the "Pack and Play" until we new she was ready to transfer to a "big girl" bed…which never happened while we lived there. It was a much easier solution than buying one twin bed knowing that in future we'd need two matching ones, and also knowing we would very likely move!
So, back to Colette's nursery, which is what it was before Mila came along and crashed her party! Her room is a little bit more complicated than just showing you a few before pictures and then moving onto it's renovation. When we bought the house it only had 2 bedrooms because previous owners had taken down this wall (see below) in order to create one larger master bedroom.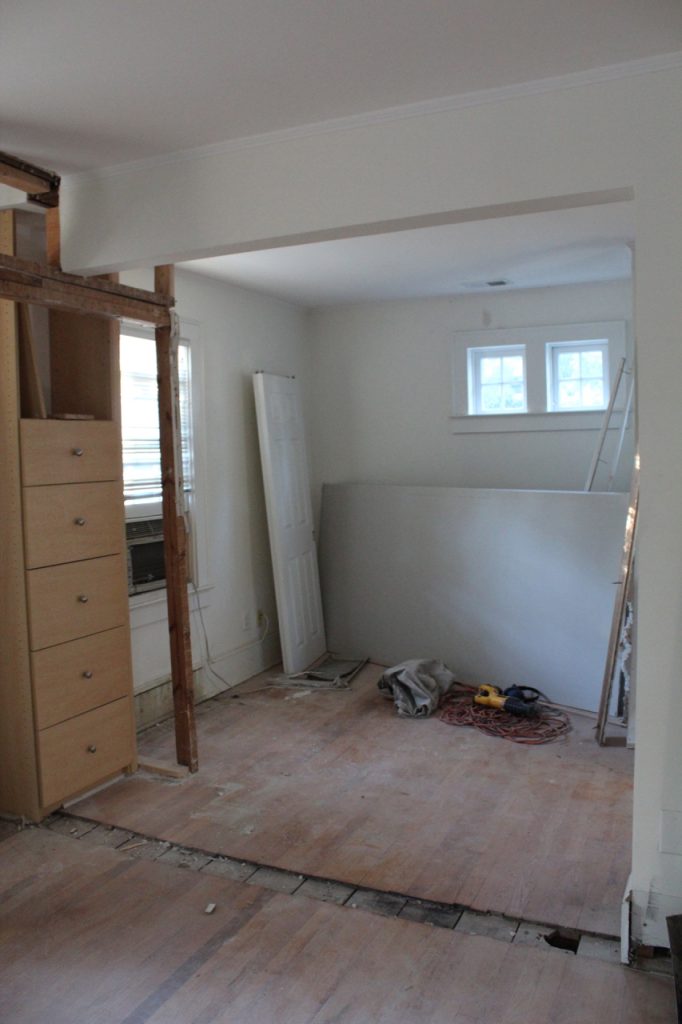 Well, that wasn't going to work for us. It was a poor decision for our family both logistically and financially. I mean, rarely do people search for a 2 bedroom house. So, before diving into how we made this room into our daughter's little dream haven, let's first show you how it even became it's own distinct room…again. First we had to reopen the original doorway to the master: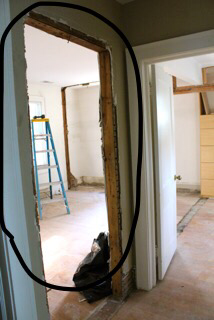 Then we had to remove the thick threshold and the built-in closets that had been put in when the wall was removed. After that we were able to reframe and then drywall the opening between the two rooms.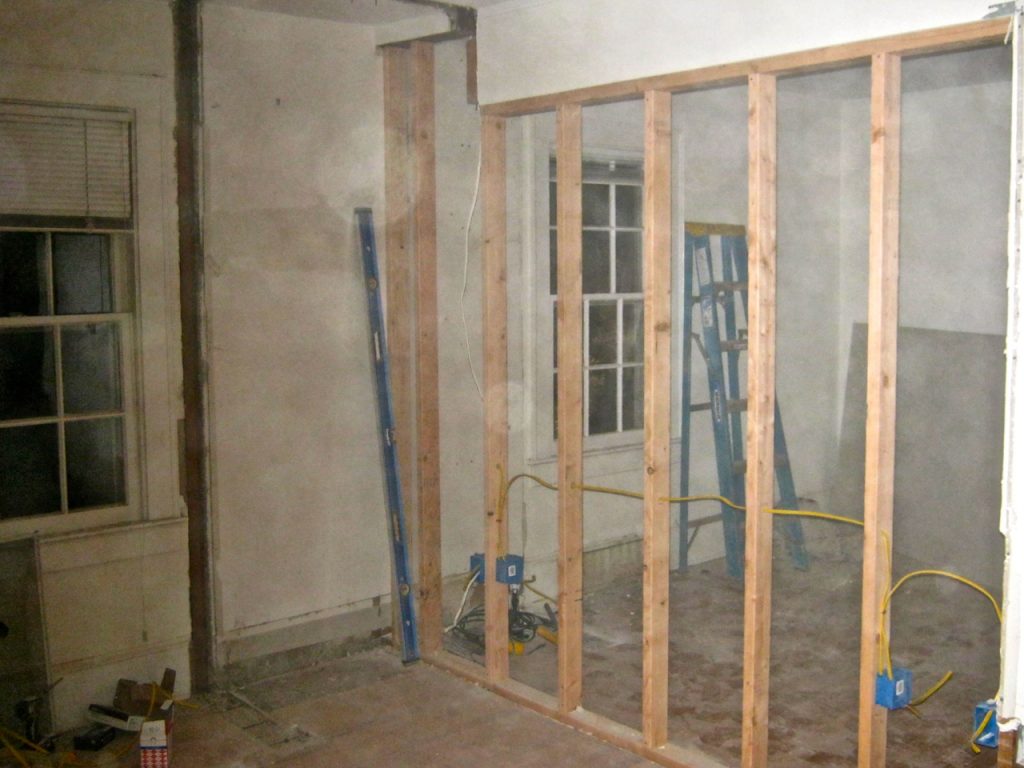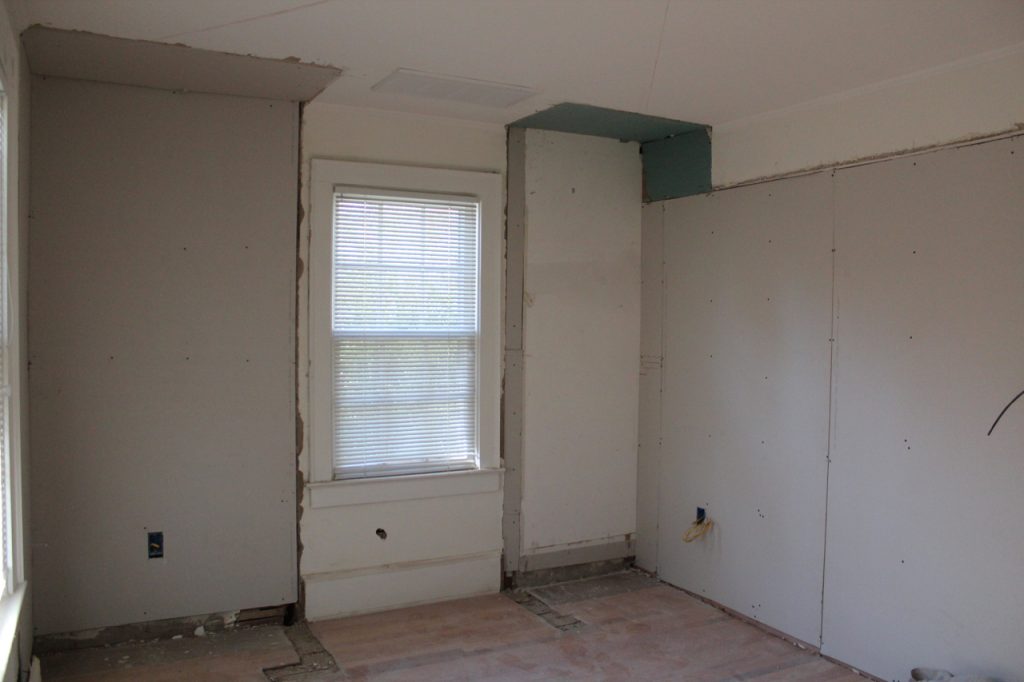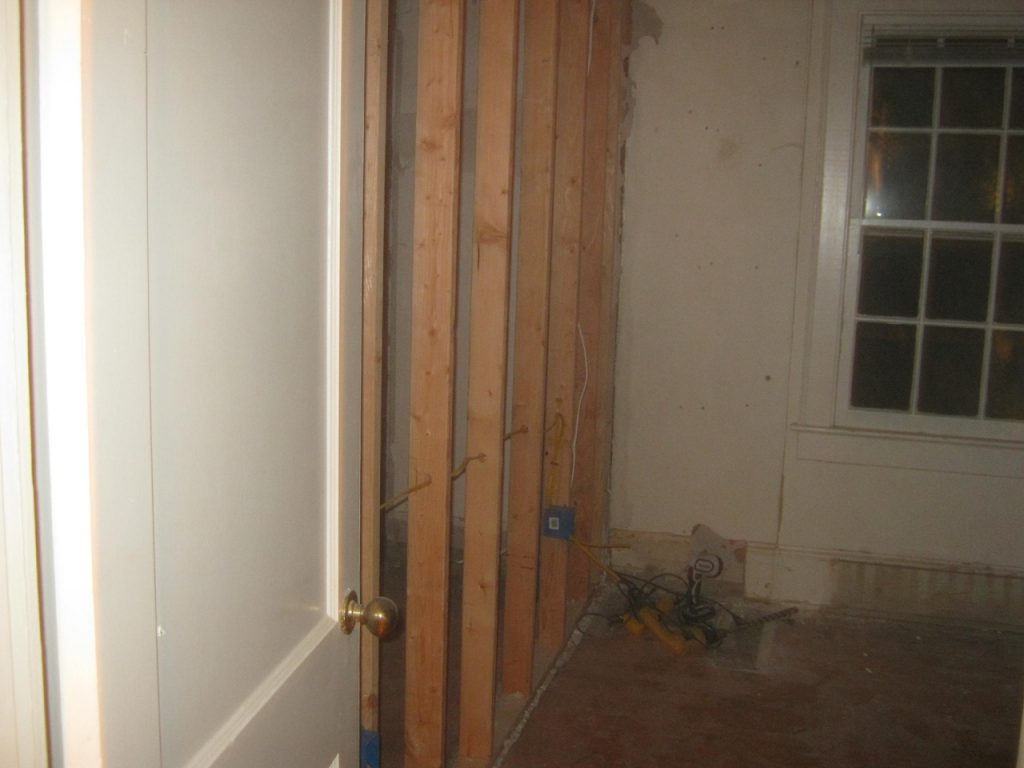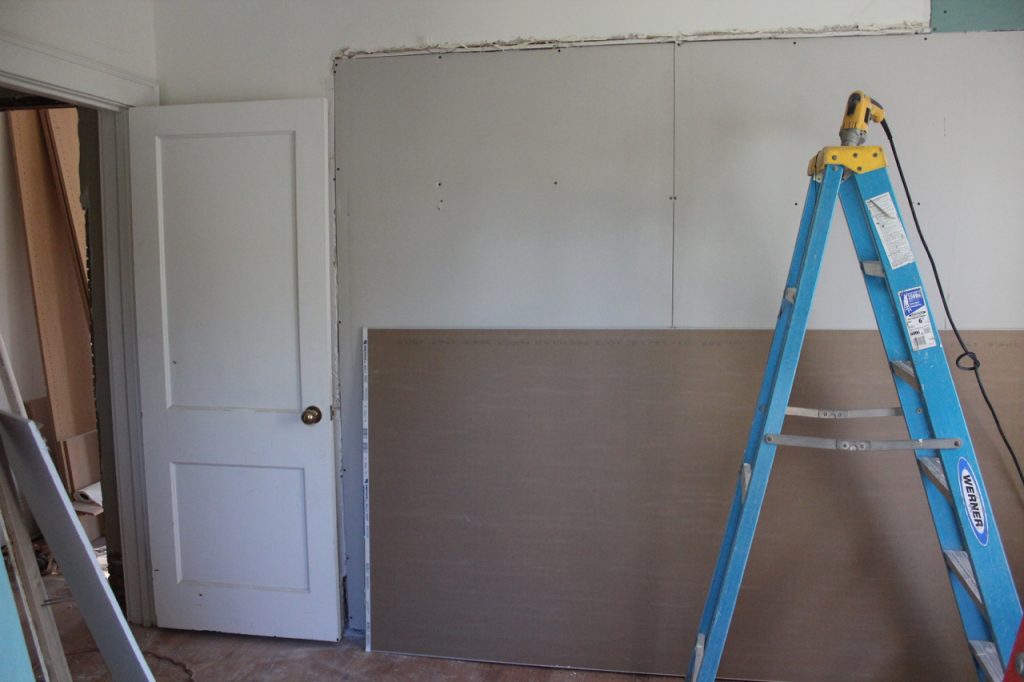 Now that the house had 3 bedrooms again we can get into the nitty gritty of how this room became pretty.
Rather than go with the traditional pink for my baby girl's nursery, I chose to go with green & purple. Go figure that both my daughters now gravitate towards pink! I also liked the clean, crisp look of white furniture so we purchased a white crib and found a vintage dresser on craigslist (a $50 steal of a deal) that we refinished to match. I also wanted white furniture because this room was the smallest in the house and I feared stained, or darker, furniture would make the room look even smaller. This was crucial because as you'll see in the "after" photos, this room loses a window when we build an addition on the house (spoiler alert to future posts).
Walls were painted "Shagreen" by Sherwin Williams and coordinating fabrics were purchased from Joanne Fabrics. No, I don't sew, but I can iron! Thank goodness for no-sew iron tape! Here's what Colette (and eventually Mila's) room looked like: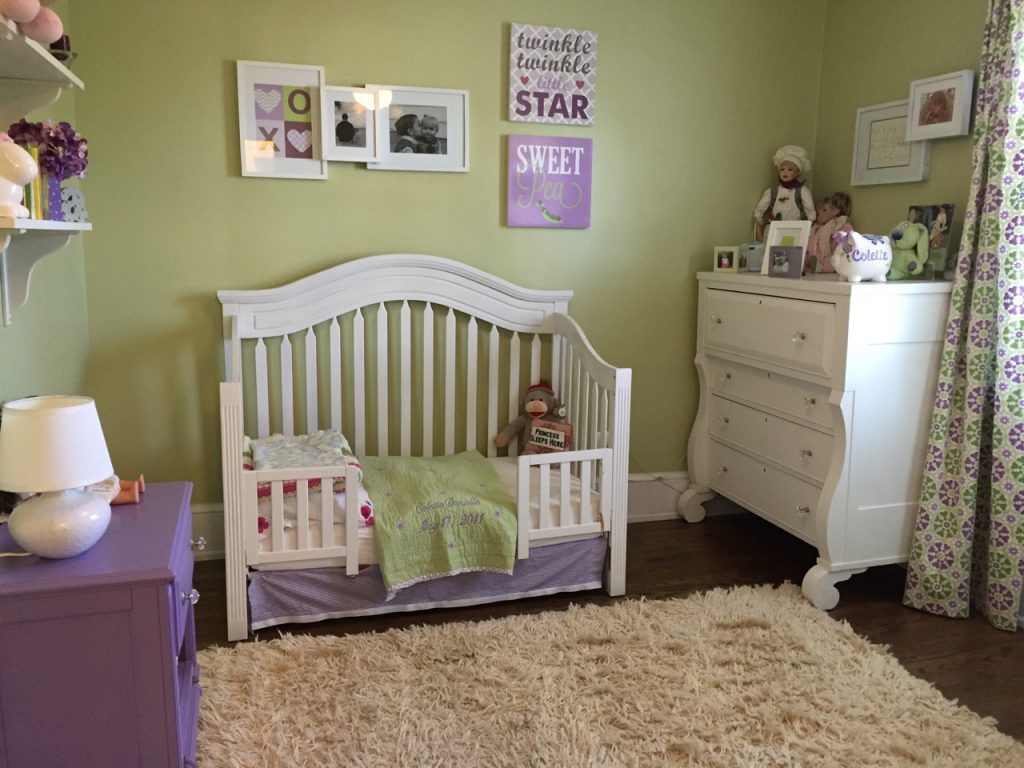 Oh, let's not forget their little reading nook!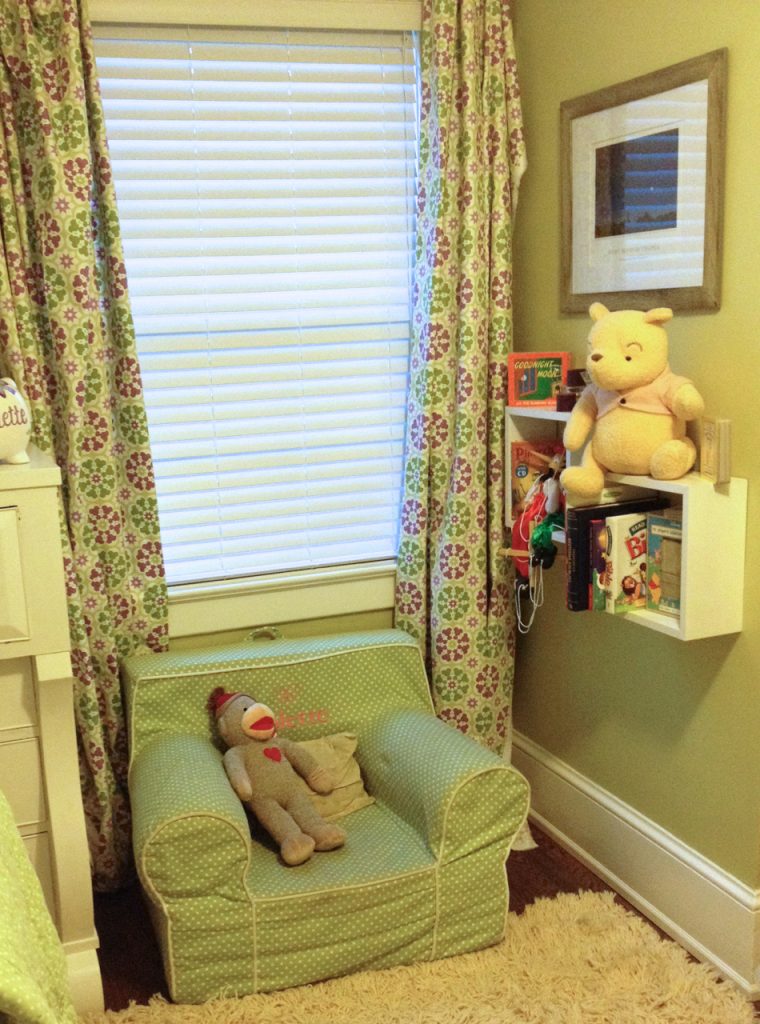 Before closing out this post I need to bring special attention to just one little detail of the room. A detail that is actually not captured in the above pictures, this coat hook.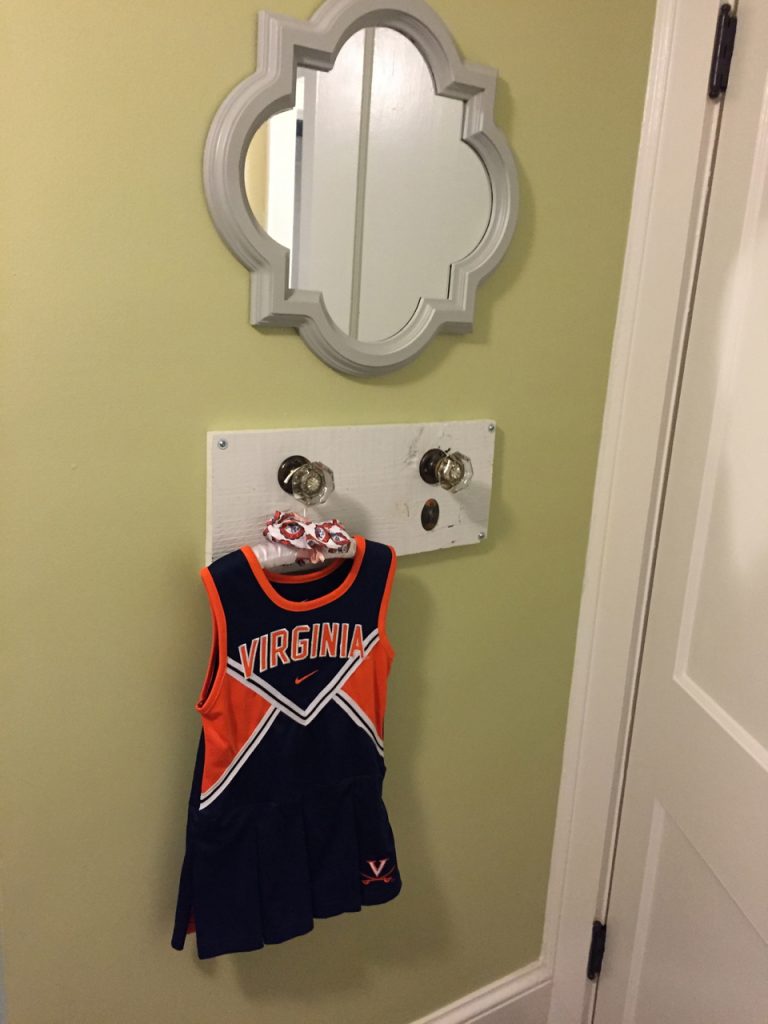 It may not seem like anything special. It may look like nothing more than a simple piece of wood and old door knobs. Well, I'll be fair, that's kind of what it is, however, they weren't just any old door knobs. They were the last remaining original set of door knobs in this house. They were still on the closet door in this room when we bought the house and since they're glass, they came across as more feminine to me and therefore I wanted them to stay in our girls' room – both in this house and the next. I could also see them as pretty towel hooks in a bathroom! We shall see, either way they're with us forever and therefore, so is a piece of this special house.
Ok, off to go negotiate colors with Colette. Can we say future designer?
*Accessories: rug purchased at HomeGoods, artwork from Target, white frames & shelves with brackets from Ikea, cube shelves were built by Pavlo but similar ones can be found at Target and Pottery Barn Kids